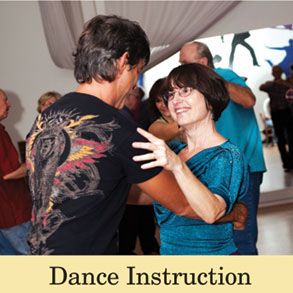 Learn multi-purpose dance basics to make all your social partner dancing more fun.
Learn how to improve your dancing through better posture, frame, connection, centering, turn technique, and body movement. See a world of difference in all of your partner dancing! Learn how to become the person everyone wants to dance with.
Learn the lead and follow techniques that make the patterns work! Your dancing will be more effortless and will bring bigger smiles to your partner's face.
Or come learn that one specific dance you've always wanted to learn. All of the above instruction will be included from your very first lesson!
Private Dance Lessons
55-Minute Lesson — one person or one couple — call for pricing and appointments. Group lessons of any size and instruction at your special event (birthday party, Christmas party, church group, etc.) are also available. Contact me for details.
Call Jane today at 619-203-1922 or email her at eastwestswinger@yahoo.com for information or to schedule a private dance lesson. Jane is located in St. Petersburg, Florida.
JANE HANCE | P.O. Box 13745, Saint Petersburg, FL 33733 | Phone 619.203.1922 | Email Jane@JaneHance.com